>Moody Mondays 1 – Great Possibilities of Grace Come from Humble Beginnings
>
I recently stumbled across a little writing that was published way back in 1900 that really blessed me and that I really wanted to share with you. The work is called, Lessons from the Life and Death of D.L. Moody and it was written by a buddy of Moody, R.A. Torrey. It just so happens that this work is super short, and can be reproduced in blog format if I break it up over twelve weeks.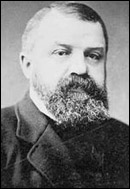 For those who don't know him, Dwight Lyman Moody (February 5, 1837 – December 22, 1899), was quite possibly the greatest American evangelist ever. He was a loud rotund man, who was often brash in his speaking and quick with his wit, but who nevertheless loved Jesus so much that he would share Christ relentlessly throughout his life. Never ordained, Moody founded a church in Chicago, and several schools across the nation, but more importantly was used by God in tremendous ways to get the gospel out. America was a growing industrialized nation at this point and with droves flooding into the cities, Moody had an audience unique in history.
In his little book, Torrey reflects on the life of his friend who has just passed away. In reading through the material you get a sense for history, but more importantly you catch a delight in the God of history who raises a simple man to a grand role in the Kingdom. The thoughts are golden, and I share them with you now. So here goes…week 1 of Moody Mondays:
"The first lesson is the great possibilities that are open through the grace of God, to a poor, uneducated, and spiritually unpromising boy. His parents were poor; his father a country stone mason with seven children. All his property consisted of a plain little house, with one or two acres of poor land, and this mortgaged. When the oldest child was but thirteen and Dwight only four, the father suddenly died. The widow was left with seven children to support, and the mortgaged home.

A month after the father's death, two more children were born. It was a life of hard toil and little promise that D. L. Moody faced from early boyhood. He had meager opportunities for education, and did not take to what little he had. Furthermore he was not a spiritually minded boy.
When he offered himself for church membership in Boston at eighteen years of age, he was refused immediate admission to the church. The pastor and church have been criticized and laughed at for this, but the pastor and church were right, for he knew so little about salvation, that when the question was put to him "What has Christ done for us all, for you, which entitles Him to our love," his reply was "I do not know. I think Christ has done a good deal for us, but I do not think of anything particular as I know of." But the church while holding him back, did not cast him off nor neglect him. It appointed a committee of two to watch over him with kindness and teach him the way of God more perfectly.
But this poor boy, poorly educated, poor in spiritual promise, became the mightiest religious leader of the century; and I think it may be added the greatest man of the century; for when the fame and influence of our great generals, great statesmen, great authors, and great scholars have been forgotten, his fame and influence, and thank God his influence more than his fame, will not be forgotten, but will live on."